Color Me Healthy for SNAP-Ed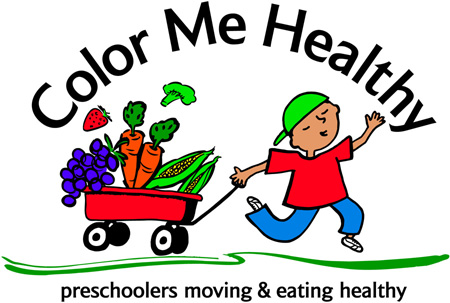 Color Me Healthy for SNAP-Ed serves preschoolers and kindergarteners across North Carolina in schools, Head Start, and Child Care Centers.
Color Me Healthy is a nutrition and physical activity program for children ages four and five. It is designed to stimulate all the senses of young children: touch, smell, sight, sound, and of course, taste. It uses color, music, and exploration of the senses to teach children that healthy eating and physical activity are fun.
Color Me Healthy for SNAP-Ed is comprised of nine lessons chosen from the Color Me Healthy curriculum. Taste tests have been added to coincide with each lesson in order to enhance the multi-sensory learning experience. Parent handouts were enriched to contain nutrition tips, family physical activity suggestions, reading book recommendations, and grocery store adventures. All participants are awarded a certificate of participation at the completion of the program. Evaluation of the program is conducted via parent and teacher feedback forms.
The Color Me Healthy for SNAP-Ed program was developed by Carolyn Dunn, Ph.D., Cathy Thomas, MA.Ed, and Laural Kelly, MS.
Resources
Site Eligibility
Color Me Healthy for SNAP-Ed Site Eligibility:
Head Starts automatically meet eligibility requirements.
Childcare centers where 50% or more of students and their families are eligible for or receiving SNAP benefits. A letter from the site director must be provided to confirm site eligibility with this form.
Qualifying schools are participating in the National School Lunch or Breakfast Program. The school building must have at least 50% of students receiving a free or reduced meal as found on this School Eligibility Chart.
Was the information on this page helpful?