Smoothie Recipes
Create a Great Smoothie In Minutes!
Smoothies are quick, and easy to make when you have a blender, peanut butter, and a variety of fruits and vegetables to work with. Smoothies can be filled with vitamins, minerals, and protein to help keep you energized and healthy, and you can "have it your way" any time of day.
1. Be creative! Have fun pairing fruits and vegetables together to get a unique taste you'll love. Mix and match colors and sizes using fresh or frozen ingredients .
2. Add low-fat milk, soy milk, fruit juice, low-fat yogurt, or ice to your fruits and veggies.
3. For added nutrients, include peanut butter.
4. Blend all the ingredients together, adjusting the liquid and ice, until it becomes creamy and smooth – just the way you like it!
5. Pour and enjoy!
Following are some delicious smoothie recipes: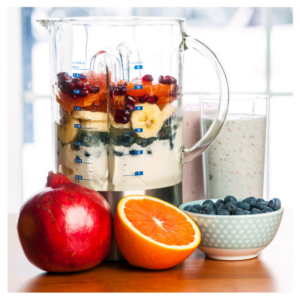 Was the information on this page helpful?